The origins of Mother's Day
Throughout the ages, people right across the world have paid tribute to mums through poetry, literature, painting and in song. Mother's Day features pagan, Christian and commercial aspects, but this special day is just as much an occasion to express our gratitude towards those who brought us into the world and, increasingly, an opportunity to reflect upon the role of mothers in contemporary society.
Mothers have been celebrated since Antiquity
The Ancient Greeks and Romans celebrated women and mothers through figures and events such as Rhea (the mother of the gods of Olympus), and the Matronalia (a Roman religious festival), which celebrated the birth of Rome, as well as children and 'Matrona' (Latin for mother) on the first day of springtime. Mothers would receive gifts and money from their husbands before going to the temple of Juno, to offer flowers to this goddess.
Later on, the mother figure became strongly associated with Christianity through Mary, mother of Jesus Christ.
"Mothering Day" in United Kingdom
It was the English who first chose a specific day to celebrate what was called « Mothering day », back in the 16th century. At the time, this day was significant in that everyone returned to the church they were brought up in as a child and thus were reunited with other members of their family. This took place on the fourth Sunday after Ash Wednesday, during Lent.
Mother's Day in the United States
The American Mother's Day first started in Boston in 1872, but didn't start spreading to other cities in the United States until 1907, largely thanks to Anna M. Jarvis, who launched a campaign to make Mother's Day a recognized holiday in homage to her mother, who had died two years earlier. Anna's mother had often stated her wish to see the creation of a special day celebrating mothers. An official Mother's Day was established in 1914 by President Wilson, with the 2nd Sunday in May being designated « Mother's Day ».
Anna M. Jarvis continued to be involved in celebrating this day in subsequent years. She expressed the wish that the day should be 'a day of sentiment, not profit'. At this time, it was customary in the United States to wear a carnation in one's buttonhole on Mother's Day. However, Anna Jarvis protested vigorously against the commercialization of the day, most notably in 1934, when she complained to the US Post Office, which had accepted the addition of a bunch of carnations to the design of a commemorative stamp marking Mother's Day, thus, in Anna Jarvis' eyes, turning her festival into an advertisement for the floral trade.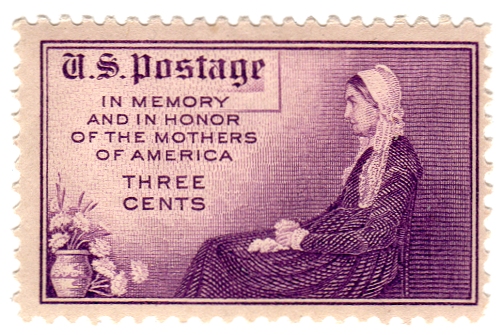 Stamp issued in 1934 and reproducing a famous painting by James Abbott McNeill Whistler (« Whistler's Mother »)
Mother's Day in France
The idea of an official day to celebrate mothers first appeared in France at the time of Napoleon, in 1806. However, this idea didn't really take off in France or the rest of Europe until the First World War, when the French were introduced to the American 'Mother's day'. In fact, the French village of Artas lays claim to being the first place to celebrate this festival, on June 10th 1906, when the first ceremony to celebrate mothers of large families was organized. Mother's Day did not become an officially-recognized day until 1929 and it wasn't until 1950 that a date for Mother's Day was fixed by law – the last Sunday in May. In years where this day falls on the same day as Pentecost, it moves to the first Sunday in June.
Sponsored Links